"I know the value of Financial Education, but I don't have the tools to help my students"
No one is born making smart financial decisions!
Money has an enormous impact on our lives. Yet learning about it is largely missing from our education system. Most of what we learn is from trial, and let's be honest, error.
What kids don't learn about money will significantly affect their opportunities, and levels of health and happiness.
Imagine making money mistakes that cost you thousands, anchor you with debt, leave you stressed and fearful, and take away your ability to make choices, pursue opportunities, and reach potential.
And now, mistakes or not, we're all confronted with grave new money challenges that we've never faced before as a community.
Ultimately, the young adults we work with may experience otherwise, but the reality of what many are facing:
63% of millennial's are financially dependent on their parents.
80% of Americans live
paycheck to paycheck.
Millennials are making 20%
less than their parents.
70% of students are stressed out about their finances.
Financial Literacy Isn't Working
​
How did you learn about financial decision making? Did you have a family member, teacher, or mentor that prepared you? Or, like so many, were you left to figure it out on your own? Did you make a lot of mistakes along the way? Looking back, are there things you wished you had done differently?
​
It is painful to think that only 17% of schools currently even require financial education. That's like a youth basketball coach only teaching 1 team member how to dribble!
But even today, there are a lot of resources available to help people who weren't fortunate enough to have a guide early in life. Financial Literacy isn't a new topic, far from it. But traditional Financial Literacy education falls short in two key areas:
It is boring, especially to teens.

It doesn't go nearly far enough.
We spend, save, give and invest with our feelings, not our logic.
Many people understand how credit card interest works but still have an online shopping addiction. Just like many people are workaholics, not because they need the money, but because they feel the most validated by being productive at work.
Financial Literacy doesn't teach anything about building a meaningful career, alternative education options, or about targeted online advertising. It doesn't teach anything about money worshiping, societal expectations, or networking.
In short, it doesn't speak to young adults where they are now. It doesn't engage them in a relatable and meaningful way.
​
We believe that in order to have a happy and meaningful life,
an individual needs to be Financially Intelligent.
​
Financial Intelligence -
Mastering the habits and emotions that drive our financial behaviors,
while also learning the mechanics of money: earning, spending, budgeting, investing...
​
​
This sort of financial education can inspire and empower better people, families, schools, and communities, but we have to approach learning about money as if it's personal, because it is!
But, who is responsible for building these curricula and implementing it? Many teachers don't have this type of knowledge themselves -- and teachers are already overwhelmed with their current responsibilities.
Money Club: Foundations is a Financial Intelligence Suite complete with courses, games, resources and guides for young adults.
​Students develop skills, behaviors, and concepts essential to success in personal finance and career readiness.
We designed this club specifically with young adults in mind to learn about money and finance in a fun and relatable way. It is accessible online on any device, personalized, and self-paced to work with varied educational schedules.
We provide guidance on actionable items and real needs, with topics like Online Shopping, Money Fundamentals, and Planning for Education more!
Enjoy a fun multimedia experience. Clever stories, graphics, and exercises to grasp and practice personal finance.
Financial decision making scores increase by 32% on average.
4 of 5 students report more interest in finances.
Online shopping.
Buying a car. College.
Finding a purpose and career. Earning more. Students want this practical knowledge!
The conversations sparked through Money Club will help you build deeper relationships with your students.
LEARN ABOUT MONEY AND FINANCE THROUGH:
ENGAGING VIDEOS​
High energy videos help you develop a relationship with money and make learning feel like an open conversation.
INTERACTIVE GAMES
​
Learning sinks in when you get hands-on, so we created special mobile games to assess your personality and activate you where you are.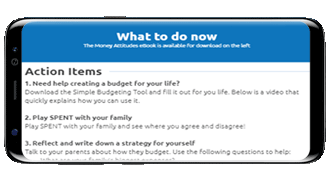 REAL WORLD TOOLS
Take the lessons you've learned, plus additional tools, resources, and support, to convert those skills into real life results.
If you are a teacher or educator, THANK YOU! We know how hard this job can be and how much you care. We appreciate you!
Ortus Academy launched with a mission to revolutionize financial education, specifically in the school system. We can provide you with the training and resources you need to run powerful financial education in your classroom or online.
​
We also have adult level workshops and courses to help you increase your own Financial Intelligence and meet your Professional Development requirements.
Youth-Based Organizations
Being a youth-focused non-profit is no walk in the park either. It is a lot of work, and you too deserve praise for all that you do!
​
Our mission is to provide you with the tools to give your young adults a meaningful education.
We'd love to support your efforts to make the world better.
In addition to helping your members, we can also provide access for your counselors and staff to have a meaningful money experience!
We've worked with over 3,000 students across various socioeconomic backgrounds to develop Money Club Foundations and to make it connect regardless of biographical background. We learned a lot during that time - and we've been humbled by how much impact it's had.
​​
Here's what you'll get when you bring Money Club content to your students/members:
​​
4 Hour Training & 1 Year Facilitator Certification for a member of your team

Flipped Classroom Facilitator Tools

Professional Development & ongoing support

6+ hours of Online course content fitting for their experiences with money

Financial Education Games for in-person or virtual sessions

Data Reporting on student assessment & reflections
This content has been facilitated with a wide variety of people, and has been found to be ideal for ages 13+.
This course exceeds National Financial Literacy Requirements. State requirements vary, contact us for details.
Single Classroom,
Small Group, or
Full School/Member Access
We Provide Facilitation Training & Certification for you to Use of Our Online Platform
Meets or Exceeds Standard for Financial Literacy in all 50 States
8 Level Introductory Course
Self-Paced or Guided Learning
Financial Literacy Certification
Bonus Resource Kits & Guides
If you are not 100% satisfied, receive a full refund.
"I learned how important investing in my education is. I never realized just how much of a difference it can make in my financial future."
Middle School Student




in Washington, DC.
"I've never seen my kids this engaged and interested in learning!"
High School Teacher




in Washington, DC.
"I have not found a solution that has had more effect on my children in understanding themselves and the world through financial terms."
Executive Director
from Baltimore, MD.