Special Offer for




SYLVAN FAMILIES!
We're partnering with Sylvan Learning Centers to provide this online summer camp to your teen, ages 13 +, and your entire family.
5 Sessions
July 20 - 31
1:00 - 3:00pm EST
Money Club is a Financial Intelligence Platform designed specifically for Millenials and Generation Z members.
Engage your teen in discussions, games & activities that prepare them to be an adult in the modern world.
Money Club focuses on how our beliefs & emotions affect our relationship with money and how to build healthy habits. We help your teen understand their values and build money skills that match.
Money Club has something for the entire family.
We know everyone can use some Financial Intelligence - so when your teen completes their summer camp expereince, a series of other courses and resources will unlock for you.
​
Your family will have unlimited access to Money Club for an additional 3 months.
​
Make sure to check out:
Financial Stability (learn the basics, get organized, and become financially stable)

Credit Confidence (learn how credit cards work, and how they can work for you!)

Online Shopping (It's easy to spend money online - here's some strategies to combat that urge.)

Access to topic specific podcasts, videos, guides, and more.
Private Support Community
Bonus Resource Kits & Guides
Certified Coach Facilitating
LEARN ABOUT YOURSELF & EXPERIENCE MONEY THROUGH:
ENGAGING VIDEOS​
High energy videos help you develop a relationship with money and make learning feel like an open conversation.
INTERACTIVE GAMES
​
Learning sinks in when you get hands-on, so we created special mobile games to assess your personality and activate you where you are.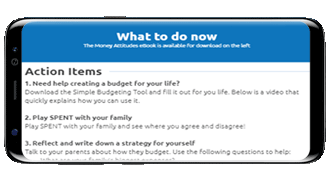 REAL WORLD TOOLS
Take the lessons you've learned, plus additional tools, resources, and support, to convert those skills into real life results.
"Through interactive games, videos, challenges,
and group discussions, my kids learned about
money in a way they could understand, relate to,
and practically apply. I was shocked by the depth
of conversations it sparked between us."
~ Michelle, a m

other
from Baltimore, MD.
"No one gave me the skills to make smart money
choices. I took a dierent online course and I could
connect or relate to the people trying to teach. It was
all outdated and stale. Money Club was fresh and I love
that it is constantly being added to."
~ Kevin, a father




from Philadelphia, PA.
Frequently Asked Questions
How do I know if this is right for my family?

If you've found yourself wanting to have the conversation of money, self-worth, overspending, credit, investing, careers and all those other money intricacies but are not sure where to start, this might be for you.

If you are noticing the sweeping trends of overindulgence, marketing to younger audiences, a numbness to debt, and a lack of mindfulness with our money, than this is definitely for you.

If you are mindful of the way in which you grew up using money, and feel that because of your lack of financial education you made money decisions that you wish you could go back and fix, then this education is most certainly for you and your family.

We spent a lot of time listening and creating the conversations we wish our parents, peers, teachers and friends would have had when it comes to money. Money Club is for those of you that feel that the way the world is changing with usage of technology and money requires a new type of conversation; one that has less to do with the optimization of your rate of return and more about how you develop financial and emotional independence and stability in radically changing times.


Won't they get this somewhere else?

We hope so, but the reality is, it's unlikely. We've seen a lot of 'financial education' come and go – but it's all focused on the mechanics of money, rather than the behaviors and habits that we develop that ultimately doom us.

More importantly, the question is when – when will they learn it? Will they come to the epiphany after hundreds of thousands of credit card debt? Or will they look to get more formally educated after they spiral into credit card debt that is sweeping through young adults and families? Or will they get this at home on your time and your dime?

The most important thing to us is that they learn about this subject early, not only so they avoid mistakes, but so they make decisions that are in line with their values and long term goals. Money Club is designed to be a meaningful learning path and community so that they can develop their own way forward with the support of a network of like-minded people encouraging their independence.


How is this different from other Financial Literacy providers?

What has been doesn't work.

Money is emotional. We purchase, save and invest with our feelings, not our logic, so we've got to approach learning about money as if it's personal. If you weren't able to get through to your kid, maybe you were going at the problem like everyone else – as if they don't have their own personality and feelings that are driving their view of money.

No matter where you are on the financial thermometer, you want the best for your kids and want to help them develop a healthy relationship with money. If that's the goal, talking about interest rates will never get their attention off of their phone. It's a never ending conversation, but it has to be on their terms.

Our main goal is to put money lessons into a way a young adult can enjoy and relate to. The way people are learning about money is boring, impersonal and impractical. Learning about choosing a career, building a business, or creating a healthy, successful lifestyle should be FUN! That's how positive habits and values will take hold in their lives and carry them into financial independence as an adult.


How does Money Club work?

Money Club is a hybrid learning camp. It is part online course - with videos, games, and life tools to engage young adults in discussions, games & activities and part coach-led discussion sessions - that prepare them to be an adult in the modern world. Certified Sylvan Tutors will lead five 2-hour camp sessions with students to:

• Create open, vulnerable discussions will guide your child through foundations of a good money relationship
• Give your young adult assessments and tools to understand their own values
• Introduce topics like money attitude, earning more, spending less, budgeting, investing in education,
paychecks, taxes, banking basics and more.
• Plus, Money Club includes full-family education: unlock advanced courses for the entire family, including
adult courses like Financial Stability 101 and Credit Confidence


I still have questions. Who can help?
For pricing, registration, and other enrollment details, please call your local Sylvan Learning Center.
For content questions, feel free to contact Ortus Academy directly at: connect@ortusacademy.com
© Copyright 2020, Ortus Enterprises, Corp.
*Ortus Academy is not a financial advising company. All financial information is
designed to educate, not intended to be solicited advice for financial decisions.*