"Where did all of my money go? Why did no one teach me how to make better financial decisions?"
63% of millennial's are financially dependent on their parents.
80% of Americans live
paycheck to paycheck.
Millennials are making 20%
less than their parents.
70% of students are stressed out about their finances.
No one is born making

smart financial decisions!
Have you ever opened your online banking app and been really frustrated with what you see?
Have you found yourself making money decisions that don't make sense, and when you look around, you wonder how to fix what you've done?
Maybe you've felt like there's no way out. Or are you looking at your patterns and trying to figure out how to get help?
Or, you've been told that getting a degree and going to school will help you learn how to level up your money game, but you wonder how that's possible if they never teach you about money?
Maybe you feel like you've hit a plateau - and you aren't growing as much as you once were.
Or maybe you realize that money can't bring you something you crave, like fulfillment or something deeper than material wealth.
Money has never been a talent you're born with - it's a skill you learn and develop. But more than likely, you feel a little like we felt.
Frustrated. Lost. Unsure. Underconfident. And worst of all, like your current money scenario is just how it is - as if money and fate were tied together.
So - How does a guy that studied Financial Economics (stock investing for someone else to get rich, basically), graduate during a recession and take on employment as a maintenance technician (a very hands on, dirty job) only to later end up starting several businesses and changing his life?
How do you go from a blue collar career to international travel, raising venture capital, writing a book, building a team, and impacting the lives of others?

It wasn't luck - it was it still is education about money, business, and most importantly, himself.
That's our CEO's story, as it is with our entire team, our interns, and the students we've worked with.
It's amazing to us that money wasn't taught in schools, college, or homes given how much we use it and how easy it is to make costly mistakes.
It's also amazing that we make choices with our hearts and our impulses more than our head. (Otherwise, we wouldn't have purchased cool branded gear for our whole Ortus Academy team!). These emotions override our logic many times.
And when it comes to money, we need to know how it works AND how we work to change our lives.
The bottom line: Financial Intelligence Education can change your life.
Money Club is a Financial Intelligence Game, Course, and Community for Young Adults.
​
Students develops skills, behaviors, and concepts essential to success in personal finance and beyond.
​
We designed this club specifically with young adults in mind and to learn about money and finance that is accessible and practical.
It is accessible online on any device, is full of interactions, and is self-paced to work with busy schedules.
Enjoy a fun multimedia experience. Clever stories, graphics, and exercises to grasp and practice personal finance.
Financial decision making scores increase by 32% on average. 4 of 5 students report more interest in finances.
Online shopping. Buying a car. College. Finding a purpose and career. Earning more. Students want this practical knowledge!
Money Club simulates 5 years of financial decisions, teaching by trial and error. See your financial scores improve!
LEARN ABOUT MONEY AND FINANCE THROUGH:
ENGAGING VIDEOS​
High energy videos help you develop a relationship with money and make learning feel like an open conversation.
INTERACTIVE GAMES
​
Learning sinks in when you get hands-on, so we created special mobile games to assess your personality and activate you where you are.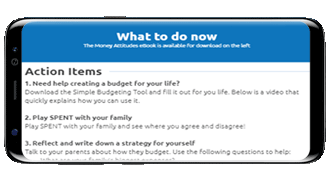 REAL WORLD TOOLS
Take the lessons you've learned, plus additional tools, resources, and support, to convert those skills into real life results.
If you are a Teacher or Educator, thank you! We know how hard this job is and how much you care. We appreciate you!
​
Ortus Academy launched with a mission to revolutionize financial education, specifically in the school system.
Youth-Based Organizations
Being a youth-focused non-profit is no walk in the park. It is a lot of work, and you too deserve praise for all that you do!
​
Ortus Academy launched as a non-profit. It was hard work that often went unappreciated for a long time. In order to grow, we chose to switch models - our mission, however, didn't change.
We've worked with over 2000 students, in-person, across various socioeconomic backgrounds to develop Money Club and to make it connect regardless of biographical diversity. We learned a lot during that time - and here's the result.
​
Here's what you'll get:
​
6+ Hours of Total Content

3+ Hours of Video Content

Flipped Classroom Facilitator Tools

Financial Education Games

Real-Life Action Items & Tools

A Project-Based Learning Activity
​
This course has been facilitated with a wide variety of people, and has been found to be ideal for ages 13 and through college.
​
This course exceeds National Financial Literacy Requirements. State requirements vary, contact us for details.
Single Classroom,
Small Group, or
Full School/Member Access
Options for In-Person Event, Facilitated Training, or fully Online Courses
Meets or Exceeds Standard for Financial Literacy in all 50 States
"I learned how important investing in my education is. I never realized just how much of a difference it can make in my financial future."
Middle School Student




in Washington, DC.
"I've never seen my kids this engaged and interested in learning!"
High School Teacher




in Washington, DC.
"I have not found a solution that has had more effect on my children in understanding themselves and the world through financial terms."
Executive Director
from Baltimore, MD.