We believe in changing the way young adults & their families approach saving, spending, education, careers, & entrepreneurship.
"I wish I had this as a kid!"
- most common comment from parents
No one is born making smart financial decisions.
Classes on financial literacy prepare you for money in the real world.
Money has an enormous impact on our lives. Yet learning about it is largely missing from our education system. Most of what we learn is from trial, and let's be honest, error.

What kids don't learn about money will significantly affect their opportunities, and levels of health and happiness.

Imagine making money mistakes that cost you thousands, anchor you with debt, leave you stressed and fearful, and take away your ability to make choices, pursue opportunities, and reach potential.

The odds are against your kids. Look at the stats!
63% of millennials are financially dependent on their parents.
80% of Americans live paycheck to paycheck.
Millennials are making 20% less than their parents.
70% of students are stressed out about their finances.
"I don't want them to need to move back in after college!"
"I am afraid that my kids
don't understand the
profound impact money
decisions have on their lives."
"I want my children to be content in their career, & to support a family without having
too many burdens."
"I want my kid to know the reality of debt, so he doesn't have to feel the pain of it."
​What if it was fun to develop financial intelligence!?
Money Club is classes on financial literacy online. It includes interactive games, an 8 level course, and a support community that engages young adults to develop their Financial Intelligence.
​
Money Club teaches vital financial concepts, vocabulary, and most importantly how one's mindset, habits, and decisions shape the future. Gain the benefits of financial literacy!
CLASSES ON FINANCIAL LITERACY INCLUDE:
ENGAGING VIDEOS​
High energy videos help you develop a relationship with money and make learning feel like an open conversation.
INTERACTIVE GAMES
​
Learning sinks in when you get hands-on, so we created special mobile games to assess your personality and activate you where you are.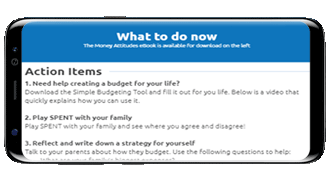 REAL WORLD TOOLS
Take the lessons you've learned, plus additional tools, resources, and support, to convert those skills into real life results.
"I have not found a solution that has had more effect on my children in understanding themselves and the world through financial terms."
"​Money Club helped teach my child about
money in a way that I couldn't. The experience provided a great springboard for having more in-depth conversations after each lesson."
"Both my kids were grateful for the opportunity to learn more about money and financial decision-making."
what parents are saying:
Money Club was designed for your family to appreciate the benefits of financial literacy. This course inspires:
​
Healthy conversations at dinner or in the car

Dialogue about careers, earning, and spending

Dreams, life planning, and business ideas
Give your kids the practical knowledge, skills, and tools to lead their financial lives. Learn more about the course, or Join now.
Ortus Academy exists to make an impact and to change lives through financial literacy classes online and in classrooms.
We have worked with over 1,400 students in over 30 schools in and around Baltimore, Maryland. We partner with financial institutions, donors, community organizations, and businesses to empower the community through education.
​
Learn more about our Mission in About Ortus Academy.