"I wish someone had taught me
personal finance as a teenager!"
Money Club is an online, self-paced, fun, &
an effective way for your teen to
learn about Money and Finance!
We want your teen to be
Financial Independent in their 20's!
don't you?
There's a lot of financial advice out there for young adults, and a good portion of it is very important – but what it all lacks is cohesion. There are so many different variables that go into financial success and many articles have been written on the subject including those that discuss knowing your taxes, how to manage student debt, or cutting back daily lattes. Unfortunately this information only examines one aspect of a greater financial challenge.
What Ortus Academy would like to share is a realistic snapshot of what financial success really looks like in the hectic 2020s world that we live in.
​
We all know that money has an enormous impact on our lives. Yet learning about it is largely missing from our education system. Most of what we learn is from trial, and let's be honest, error.
​
What our young adults don't learn about money will significantly affect their opportunities - far beyond financial. Financial stress can have major impacts of their future mental, physical, and emotional health and ultimately their happiness.
​
Imagine making simple mistakes that cost you thousands, anchor you with debt, leave you stressed and fearful, and take away your ability to make choices, pursue opportunities, and reach potential.
​
This is the reality of what many are facing:
INDEPENDENCE
63% of Millennials are financially dependent on their parents.
SECURITY
80% of Americans live
paycheck to paycheck.
OPPORTUNITY
75% of young adults are expected to earn LESS than their parents.
WELLBEING
69% of college students are in student debt, with an average amount of $30,000.
Join Money Club Now!
Let's make sure your teen doesn't end up as one of these statistics.
Lifetime Access for $179
Financial Literacy Hasn't Worked!
​
How did you learn about financial decision making? Did you have a family member, teacher, or mentor that prepared you? Or, like so many, were you left to figure it out on your own? Did you make a lot of mistakes along the way? Looking back, are there things you wished you had done differently?
​
It is painful to think that only 17% of schools currently even require financial education.
That's like a youth basketball coach only teaching 1 team member how to dribble!
But even today, there are a lot of resources available to help people who weren't fortunate enough to have a guide early in life. Financial Literacy isn't a new topic, far from it. But traditional Financial Literacy education falls short in two key areas:
It is boring, especially to teens.

It doesn't go nearly far enough.
We spend, save, give and invest with our feelings, not our logic.
Many people understand how credit card interest works but still have an online shopping addiction. Just like many people are workaholics, not because they need the money, but because they feel the most validated by being productive at work.
Financial Literacy doesn't teach anything about building a meaningful career, alternative education options, or about targeted online advertising. It doesn't teach anything about money worshiping, societal expectations, or networking.
In short, it doesn't speak to young adults where they are now. It doesn't engage them in a relatable and meaningful way.

​
We believe that in order to have a happy and meaningful life,
an individual needs to be Financially Intelligent.
Financial Intelligence means mastering the mechanics of money, but also the habits and emotions that drive our financial behaviors.
This sort of financial education can inspire and empower better people, families, schools, and communities, but we have to approach learning about money as if it's personal, because it is!
But, who is responsible for building these curricula and implementing it? Many teachers don't have this type of knowledge themselves -- and teachers are already overwhelmed with their current responsibilities.
​
Money Club is built by coaches who have been through it - and can share their experiences in engaging, effective, meaningful and rewarding ways.
Enjoy a fun multimedia experience. Clever stories, graphics, and exercises to grasp and practice personal finance.
Financial decision making scores increase by 32% on average. 4 of 5 students report more interest in finances.
Online shopping. Buying a car. College. Finding a purpose and career. Earning more. Students want this practical knowledge!
Money Club simulates 5 years of financial decisions, teaching by trial and error. See your financial scores improve!
"I learned how important investing in my education is. I never realized just how much of a difference it can make in my financial future."
A Money Club Student




in Washington, DC.
"​Money Club helped teach my child about money in a way that I couldn't. The experience provided a great springboard for having more in-depth conversations after each lesson."
A Money Club Mom
from Baltimore, MD.
"No one gave me the skills to make smart money choices. I didn't want to do that to my kids. Money Club was a perfect fit for my kids - and we had some amazing talks afterward."
A Money Club Dad
from Houston, TX.
8 Level Introductory Course
Self-Paced or Guided Learning
Financial Literacy Certification
Bonus Resource Kits & Guides
If you are not 100% satisfied, receive a full refund.
LEARN ABOUT MONEY AND FINANCE THROUGH:
ENGAGING VIDEOS​
High energy videos help you develop a relationship with money and make learning feel like an open conversation.
INTERACTIVE GAMES
​
Learning sinks in when you get hands-on, so we created special mobile games to assess your personality and activate you where you are.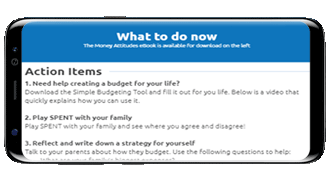 REAL WORLD TOOLS
Take the lessons you've learned, plus additional tools, resources, and support, to convert those skills into real life results.
Contact Us For More Information
If you have questions or are interested in investing in your team's financial wellness, click the button below to get more information and schedule a time to learn more.