How can we help teens to make better financial decisions?

Enhance their Financial IQ!
Money Club is the fun & effective way to learn about Money and Finance!
"I have not found a solution that has had more effect on my children in understanding themselves and the world through financial terms."
Mother
from Baltimore, MD.
"I've never seen my kids this engaged and interested in learning!"
High School Teacher




in Washington, DC.
"I learned how important investing in my education is. I never realized just how much of a difference it can make in my financial future."
Middle School Student




in Washington, DC.
Money Club is a Financial Intelligence Course and Community for Young Adults.
​
Money Club develops skills, behaviors, and concepts essential to success in personal finance.
​
We designed a course for young adults to learn about money and finance that is accessible and practical.
It is playable online on any device, is full of interactivity, and is self-paced to work with kid's busy schedules.
​
Enjoy a fun multimedia experience. Clever stories, graphics, and exercises to grasp and practice personal finance.
Financial decision making scores increase by 32% on average. 4 of 5 students report more interest in finances.
Online shopping. Buying a car. College. Finding a purpose and career. Earning more. Students want this practical knowledge!
Money Club simulates 5 years of financial decisions, teaching by trial and error. See your financial scores improve!
Money Club is designed to meet you where you are, to build a foundation of financial decision making skills.
Ask. Pitch. Ponder. Share. Engage! Money Club has a community to share our wins, losses, and lessons.
Money Club provides the tools, tips, and resources to take action towards improving your financial life.
LEARN ABOUT MONEY AND FINANCE THROUGH:
ENGAGING VIDEOS​
High energy videos help you develop a relationship with money and make learning feel like an open conversation.
INTERACTIVE GAMES
​
Learning sinks in when you get hands-on, so we created special mobile games to assess your personality and activate you where you are.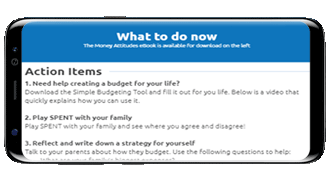 REAL WORLD TOOLS
Take the lessons you've learned, plus additional tools, resources, and support, to convert those skills into real life results.
8 Level Financial Intelligence Course:
​
​
We are so glad you have chosen to join us as we teach you what it means to be financially intelligent and how to live a life of meaning. You will love the benefits of financial literacy. We hope you are ready and excited to begin.
​
2. Money Attitudes
Money Attitudes is where our journey with financial intelligence begins. These are what drive our underlying money behaviors. So, if you view money as a tool, what do you do with it?
​
3. Earning
While happiness is one way in which we can measure wealth, money is the typical measurement. But, how do we earn it? In this lesson, we will help you answer that question.
​
4. Spending

Spending money isn't a subject that many people feel they need help with. But, how we spend matters a great deal if we are to be financially intelligent.
​
5. Budgeting
If earning is your offense and spending are your defense -- budgeting is your head coach! Don't get scared by the word budgeting - it can be a great tool to unlock your financial freedom, not hinder it. In this lesson we'll be sharing with you some experience on how it feels to live life without a budget - and with one. You'll get to play a fun game that will help you see how far your money can go. Enjoy!
6. Investing
Real Estate is a great investment vehicle for a lot of people. In the Money Club game you can see the impact on your net worth. In this lesson we'll review how it worked during the game, and show you how it can work in real life. We'll discuss the magic of passive income and what it feels like to be a landlord.
7. Education
For many investing in education is their first significant purchase as an adult. If done wisely, it can set you up for a great future - but if not done well, it can limit your decisions and decrease your happiness. The education pathway is different for everyone - listen to some stories of a few folks we know and hear about their path to specialized knowledge.
8. Take Action
Congrats! You have completed the Money Club course. You are well on your way to becoming Financially Intelligent. Here is a thank you from us and a review of some of the major takeaways.
​
Enroll in Money Club to learn about money and finance!
​
Prepare your children with the behaviors, mindset and skills required to navigate their financial lives.
​
Free Access to Money Club includes free ebooks, the Money Fundamentals course, and so much more. Or buy lifetime Full Access to the complete online interactive video + game course!
"I want my kids to understand the value of hard work to earn a living."
"I want my kids to earn interest, not pay it."
"I want my kids to have the discipline to save money."
"Happiness is deeper than money, but it requires being free from financial stress."
"I want my kids to understand that it takes more than working hard, it takes working smart."
Your kids deserve to and need to understand money.
​
Prepare them for the world with Financial Intelligence!
we guarantee it!
If you are not 100% satisfied, contact us for a full refund.
Workbooks

Outdated

Boring

Technical

Generic

Logic-based

Constraint-oriented
Interactive​

Modern

Exciting

Individualized

Relevant

Psychology-based

Abundance-oriented
Let's be Honest about Money.
​
If you don't learn the rules of the game for personal finance, there are serious consequences.
​
Money is changing. It's fast. It's easy to slip. And here's the truth -
​
A young adult is more likely to suffer as they get older if they make poor decisions early. Catastrophic financial decisions are simply too easy to make.
​
People across the country are making the wrong choices without knowing and then finding out they owe $500, $800, $1,500, or $2,000 per month in loan payments!
That's the same cost as a house, and people are avoiding things like home ownership, families and starting a business because of these early mistakes!
​
This is why post-college professionals move back home and sleep in their parents basement!! They don't know the rules of the game.
​
Investing in this education isn't just another class, it's THE class that can change a personal trajectory. Instead of the job we take, we go for the job we want and love.
​
Instead of the collapse into credit card debt and student loan oblivion, we thrive making the right choices.
​
By creating an opportunity for students to see salaries, banks, and spending as a game, they can engage questions, mistakes, and successes with an air of experimentation and intrigue, and an informative guide to help along the way.
​
Learning the rules of the financial game through play generates curiosity, motivation, and retention, while building on skills that are fundamental to success: mathematics, patience, and the effects of decisions on the long term.​
​
​Financial intelligence is not a side effect of wealth. Wealth is a side effect of financial intelligence.​
4 out of 5 students surveyed after playing Money Club came away with more interest and knowledge in personal finance, and 4 out of 5 parents reported being impressed with the conversations it started with their kids.
9 out of 10 Teachers recommend our program, often saying "I've never seen my kids this engaged in learning!"

Investing in a course like Money Club may save you THOUSANDS in the future. It may also create so many bright possibilities for your child. Enroll your loved ones in Money Club today!
​